Have you stumbled upon Allura siding in your search for a fiber cement siding product for your house?
Perhaps you have never heard of it, and this is because when it comes to fiber cement siding, Hardie Plank is a default choice in the minds of many homeowners and contractors.
However, Hardie is certainly not the ONLY and not necessarily the best fiber cement siding choice.
Allura USA is a premium fiber cement siding brand, that offers high quality products, with an abundance of profile, texture and color options.
Today, many builders of luxury homes and condos prefer the curb appeal and durability of Allura siding over Hardie.
If you are ready to replace your old siding, contact your local siding pros for FREE ESTIMATES!
How Much Does Allura Siding Cost?
x
Low End
Mid Range
High End
Materials
$5,115
$5,560
$6,505
Labor
$6,617
$7,192
$8,415
Cost / S.F.
$7.33
$7.97
$9.32
Total Cost
$11,732
$12,752
$14,920

See Costs in Your Area!
Start Here - Enter your zip
On average, home owners across the US spend about $5.50-10 on materials and installation of Allura siding.
Overall, these prices are comparable to James Hardie prices.
When it comes to installation, Allura is a little cheaper than Hardie, because it is easier and faster to install. The planks also don't crack or break as much, so installation can be about 15-20% cheaper than Hardie.
On the other hand, Allura siding materials, accessories and trim are actually more expensive than similar products from James Hardie.
Moreover, there are a number of Allura premium plank colors and shingle profiles that Hardie simply does not have. These products are used in high end construction and remodel projects and cost more.
Here is comparative chart of Allura vs James Hardie siding prices.
| | James Hardie | Allura USA |
| --- | --- | --- |
| Lap Siding | $1.55 – 2.25 | $1.85 – 2.55 |
| Shakes & Shingles | $1.70 – 2.00 | $2.10 – 2.55 |
| Soffit, fascia and trim | $1.50 – 2.25 | $2.00 – 2.65 |
At the end, however, the total cost of siding replacement for both brands comes out to be about the same.
You can use our Siding Calculator to quickly estimate the cost of your siding project, using different materials.
Pros of Allura Siding: 11 Reasons Why It Beats The Competition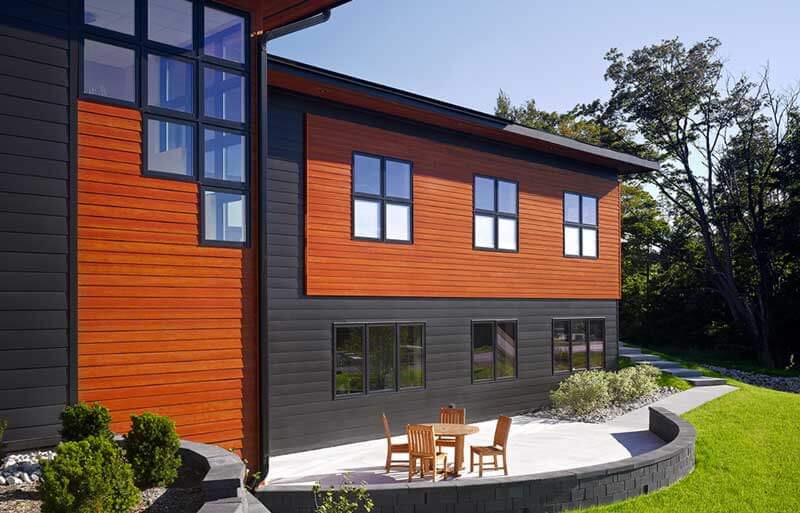 1. Longer lasting, more durable finish
Compared to the competitors, Allura's advanced formula makes for a more durable finish. The company made this improvement by partnering with PPG Paints, and industry leader for over 30 years in factory applied finishes. As a result of this collaboration, Allura offers a proprietary ColorMax® Finishing System.
It is especially formulated not only to provide superior protection against the elements but to also offer a pallet of designer colors that you will not find anywhere else.
Machine applied coats of ColorMax color provide consistent coverage on all surfaces: planks, shakes, shingles, architectural panels, and trim.
At the end, each piece of siding is sealed for maximum resistance to inclement weather and different types of exterior impact.
This sealant actually penetrates into the boards and bonds with the fiber cement material, protecting it from moisture infiltration. The sealant also bonds better with paint, providing a longer lasting finish.
This proprietary finish technology is a major reason why builders of high-end homes and luxury properties prefer Allura fiber cement siding.
Most People Spent:
$6,326 - $7,645

See costs in your area Start Here - Enter Your Zip Code
2. Outstanding Color Selection
Today, Allura offers an unbeatable range of stunning color choices, that even Hardie can not compete with.
All together, Allura offers ColorMax 22 solid and 6 stain colors that feature an advanced paint technology for optimum protection. The siding is pre-primed and sealed for painting after install.
You know that the quality and durability of these colors is exceptional when Allura siding graces the buildings of Nasa, White House and Goodyear Tires, among many others.
3. Wood Stain Options
Unlike most other fiber cement brands that don't have stain options for siding, Allura offers an impressive array of choices. There are even semi-transparent wood stains available.
4. Special Design On Architectural Panels
Allura came up with an innovative technology that drastically improved the aesthetics and durability of its architectural panel line.
Called ez.lock, the system enables the panels to be installed more quickly and easily than competitor brands.
There are also no visible fasteners, which dramatically improves curb appeal. Moreover, the system raises Allura panels up and away from draining water channels to avoid water damage.
5. Superior Warranty
Allura is committed to its product quality, which is why the company offers the best warranty in the fiber cement siding industry.
You get 50 year limited transferable product warranty. ColorMax Solid Colors and Stains have a 15-year limited coating warranty. By contrast, James Hardie offers a 30 year limited warranty on their siding products.
6. Green Building Material
If you are conscious about leaving a small environmental footprint from your home improvement projects, you will appreciate that Allura siding is a green material.
Allura uses 30% recycled fly ash as a binder in its boards. This is a building material that would otherwise be disposed of in landfills.
During the manufacturing process, the company uses recycled water, and recycles waste instead of sending it into landfills.
Moreover, Allura siding is an NGBS (National Green Building Standard) Green Certified product, and the only fiber cement siding to guarantee contribution to LEED® (Leadership in Energy and Environmental Design) credits on every project.
7. The Best Possible ROI
Typical Cost To Install ALLURA Siding
Price Range:
$9,270 - $15,240
Out of all siding materials, fiber cement has been proven to provide the best ROI for the past 7 years in a row.
According to Remodeling Magazine, which closely examined 35 home improvement projects, fiber cement siding provided an 84.3% return on investment!
8 More Choices For Shake & Shingle Siding
Allura offers a much greater variety of styles for shake and shingle siding, compared to other brands. You can choose from the following:
1. Straight Edge
2. Staggered Edge
3. Half Rounds
4. Octagons
5. Perfection shingles
Moreover, there are three different textures available:
1. Traditional Cedar
2. Combed
3. Rustic Cedar
There are also a variety of widths and lengths available, so that you can really customize the look of your siding.
9. Looks More Like Wood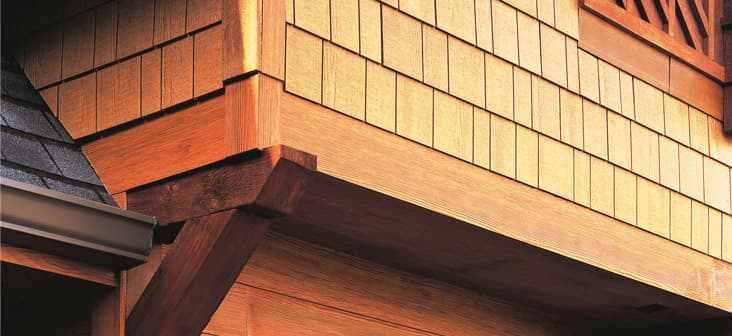 If you are looking for a fiber cement product that most closely replicates the look and feel of wood siding, Allura is the best choice.
The realistic look is achieved through a deeper embossing process, in which the wood grain pattern is transferred on to the siding from real cedar boards.
Compared to Hardie, Allura fiber cement siding has far fewer boards with duplicated wood grain patterns. As a result, your siding really looks like natural wood.
10. Strong Impact Resistance
Compared to Hardie siding, Allura has been shown to be less likely to fracture or break upon resistance.
11. Exceptional Durability
Testing shows that compared to other fiber cement siding products, Allura siding is more resistant to heavy rain, high humidity and extreme cold temperatures.
Compared to wood siding, Allura is impervious to rot, warping, decay, moisture and wood-boring insects. It has a Class A Fire rating, which means it is none-combustible.
A Bit Of History About Allura Siding
The reason why most people have not yet heard of Allura is because it is so new to the fiber cement market.
The company was launched in 2013, when CertainTeed sold its fiber cement siding division to Plycem, a company primarily famous for its trim products. Plycem is a US division of a global building product corporation from Mexico, Elementia.
Before the Allura product line was launched, Plycem invested heavily into research and developmet. As a result, they were able to come up with many improvements that bested the industry's pioneering brand, James Hardie. In 2014, Allura had 3 fiber cement plants in the USA, but by 2016, there were already 13 plants, and the company is continuing to grow.
A Word of Caution About Allura Fiber Cement Siding
As a homeowner looking to invest in the best possible siding product, you should be aware of the following situation regarding Allura siding:
Right before CertainTeed sold its fiber cement division to Plycem, there were a lot of serious issues with their siding products.
Before the sale, CertainTeed settled a huge class action law suite. After the company transferred hands, the formulation of the siding has been significantly changed.
While Allura fiber cement siding may not have the same issues as were present in CertainTeed, the product is still only a couple of years old to really know how it will fair long term.
If you prefer a more trusted, well established brand, we recommend going with either James Hardie or Nichiha siding.
We also recommend asking for the advice of your siding contractor about which product fairs better in your particular climate.
Most People Spent:
$6,326 - $7,645

See costs in your area Start Here - Enter Your Zip Code
Most People Spent:
$6,326 - $7,645

See costs in your area Start Here - Enter Your Zip Code